How Sewing Can Improve Mental Health For Teens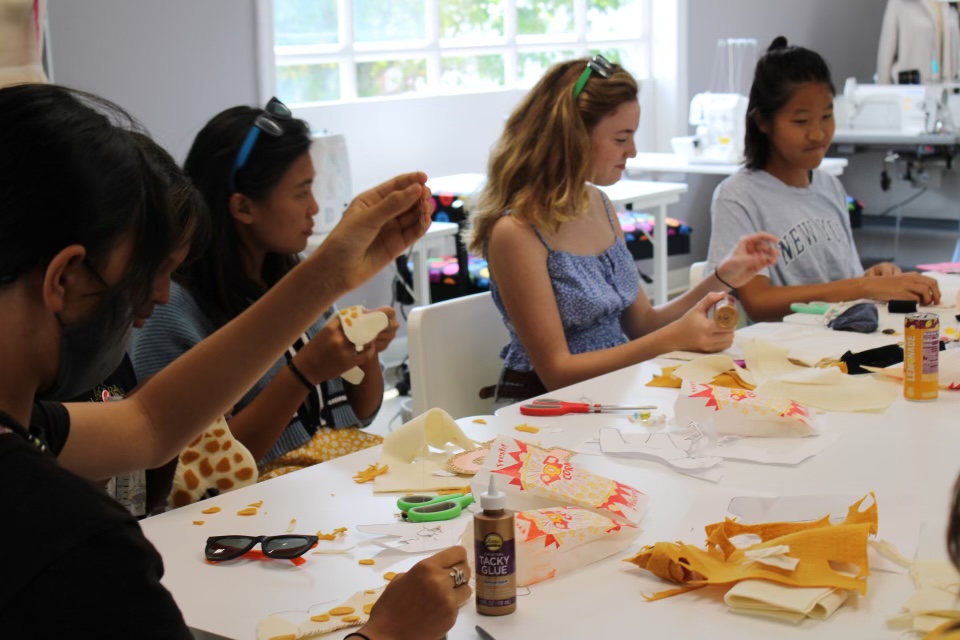 If you want your teens to have a hobby that can create a positive impact on their character development and mental growth, consider teaching them the sewing art. It not only keeps them mentally healthy, but also helps them reach developmental and emotional milestones and learn healthy social skills throughout their life.
It's observed that the teens who learn sewing and other similar arts, always have a positive attitude towards life and can function very well at home, school, society, and all other fields of life.
Sewing is one of the best ways to keep in touch with each other, as it helps children in problem-solving and decision-making skills. It helps teens build self-confidence in their skills. Studies have also shown that children, especially those who are in the 10 to 16-year age group, if they learn to sew, can gain many mental as well as physical developmental benefits.
We have listed a few things that help understanding how sewing and art make teens feel mentally strong, and why these activities can serve as great hobbies for them.
It Reduces Anxiety and Stress

Sewing gives mindfulness and peace to teens and helps them to reduce stress too. Whether they work with an advanced sewing machine or just learn through needlework, this art helps them relax their mind. The concentration required while sewing and the resulting distraction of the mind from the negative thoughts promotes a positive attitude. Focusing on a specific task allows them to completely immerse their self in the situation and truly unroll. This is not only a great way to keep teens' hands and mind occupied, but it also helps reduce anxiety and helps them feel more fulfilled.

It Increases Self Confidence and Improves Self-Image

Sewing means developing self-confidence through skill development. It helps teens in developing motor skills, improves concentration, and teaches them importance of self-control and patience. Understanding personal limits, developing skills, and achieving realistic goals while working outside of comfort zone, all of these are some mental benefits of sewing.

It Keeps Away Negative Thoughts

Negative thoughts are the main reason for depression. For some teens, it could be difficult to replace the ingrained negative thoughts with more uplifting ones during a depressive episode. Art and sewing can be used as a tool to help stay away from negative thought cycles. In essence, this activity can reduce the time and space occupied by harmful negative thoughts in their mind. If you want to keep your teens from negative thoughts then you should know the ways to encourage teens to sew.

It Increases Happiness

Another scientific and surprising benefit of sewing is that it can increase the amount of dopamine in teens' brain. Dopamine is a chemical, known as a neurotransmitter, that allows brain cells to send messages to each other. When their body has high levels of dopamine, the activities that they are performing will be more comfortable and pleasurable. This increase in dopamine caused by sewing will help them feel happier.

It Helps Teens To Be Mentally Focused In Life

Teens need to stay focused when they sew, practically at all times. Otherwise, they can accidentally stitch their fingers, or break the needle, or anything like that. There is a lot that can go wrong if they don't pay attention. Practicing sewing is scientifically proven to raise mind awareness and concentration while doing any type of activity which further, in turn, allows them to stay mentally focused in their life.

Improve Your Hand-Eye Coordination

Sewing is a fantastic idea to do. It helps to improve your child's cognitive and motor skills. As you sew more, your hand-eye coordination will improve. Sewing involves a high level of attention to detail, which promotes coordination and alleviates physical difficulties such as back pain. Consistent practice of this kind between the ages of 13 and 18 can improve general mental and physical health. As a result, our bodies continue to acquire optimal balancing, jumping, and handedness stability skills.

Sewing Teach Them How To be Patient

We can not accept waiting or patience from children when they want something. And it's going to be pointless when we try to explain to them that it's impossible to get the things immediately. They need to know and understand that sometimes waiting is necessary. They can learn about patience in a very effective way while indulging themself in sewing. Working on any sewing project they will realize that they need to thread the needle before sewing. Marking of fabric is compulsory before cutting it, shortcuts can not be used while stitching two pieces of fabric together, like so. Slowly but surely they start to learn how to be more patient. 
It's time to take a quick look at this topic before we part. Sewing is definitely a wonderful hobby for teens to help them build self-confidence. It teaches them how to make unique objects, repair broken things, or modify the clothes or things they own. Knowing how to sew is a useful skill with a lifetime's utilization and many health benefits.
you want your child to learn sewing by professionals, House of Dezign has a class for them! We carefully curate lessons to ensure each student succeeds! We teach your child to sew by hand or machine, illustrate, pattern draft and so much more! Get your child registered now!
2021 fashion trends include designs, fabrics, and colors
for imaginative, beautiful, and comfortable clothing
like the modern kimono. 
Call us today at 973-908-3575
or visit us at houseofdezign.com
to learn more about making a modern kimono
with us!