Why Sewing Classes Are Beneficial For Kids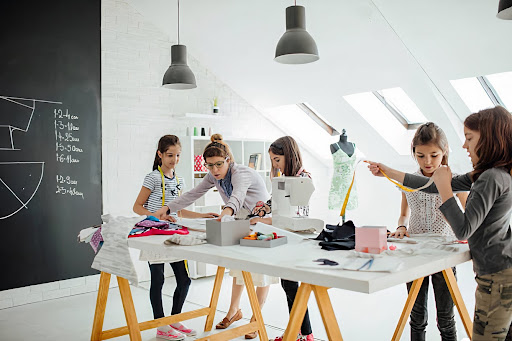 Sewing classes for kids are becoming more and more popular now-a-days. And the reason is, there are some miraculous benefits of learning the basics of sewing.
In most sewing classes, learning to sew does not require a sewing machine. So there is no reason to keep children from entering the world of sewing. With this thing in mind, we can say that enrolling your kids in a fashion design course is a very smart move. And yes, they'll be very grateful to you for it once they grow up.
Let's have a look at what positive changes sewing classes can bring to your kids. 
1. Sewing Classes Help Kids To Improve Communication and Follow Instructions
Kids may not learn how to sew on their own, they might need you or a sewing class to learn all about it. It is accepted that they first might ignore what you say. But when it won't work, they will start listening to your instructions. To avoid failure while sewing, they will start following guidelines perfectly. They will tend to improve their communication skills by explaining the difficulties they face while they indulge in sewing. 
2. Kids Learn To Use Their Imagination And Creativity In Sewing Classes
As we know, imagination and creativity are related to each other. Kids use their powerful imagination while they indulge in a sewing class. Sometimes, they can even come up with unique ideas that are far better than those of adults. The best part about sewing classes is that they find a creative environment of their choice with other children. And this is a fact that they won't be able to neglect their creativity and imagination.
3. With Other Kids In Classes They Will Learn How To Be Patient
When we talk about kids, waiting is unacceptable to them. It can be difficult to make them understand that getting things immediately can be impossible in some cases. But, when they practice sewing with other kids in class, they can learn to be patient with many examples around them. This will make them realize that sewing can not be done before threading the needle, fabric can't be cut before marking it. And with this moral, they'll slowly but surely start learning how to be more patient.
4. They Will Develop Fine Motor Skills
Most of the time we find kids facing trouble when they do precise work with their hands. But it is observed that practicing gentle and precise hand movements in sewing classes helps them to avoid these issues. The best part is that they can learn hand sewing and once they are comfortable with this, they can switch over to a machine. It's time to briefly recap this topic. For kids, sewing is a great activity to get creative. And if you are looking forward to developing the above qualities in your kids, House Of Dezign has professional sewing classes for them. Enroll with us now!
2021 fashion trends include designs, fabrics, and colors
for imaginative, beautiful, and comfortable clothing
like the modern kimono. 
Call us today at 973-908-3575
or visit us at houseofdezign.com
to learn more about making a modern kimono
with us!