Essentials For A Fashion Sketching Tool Kit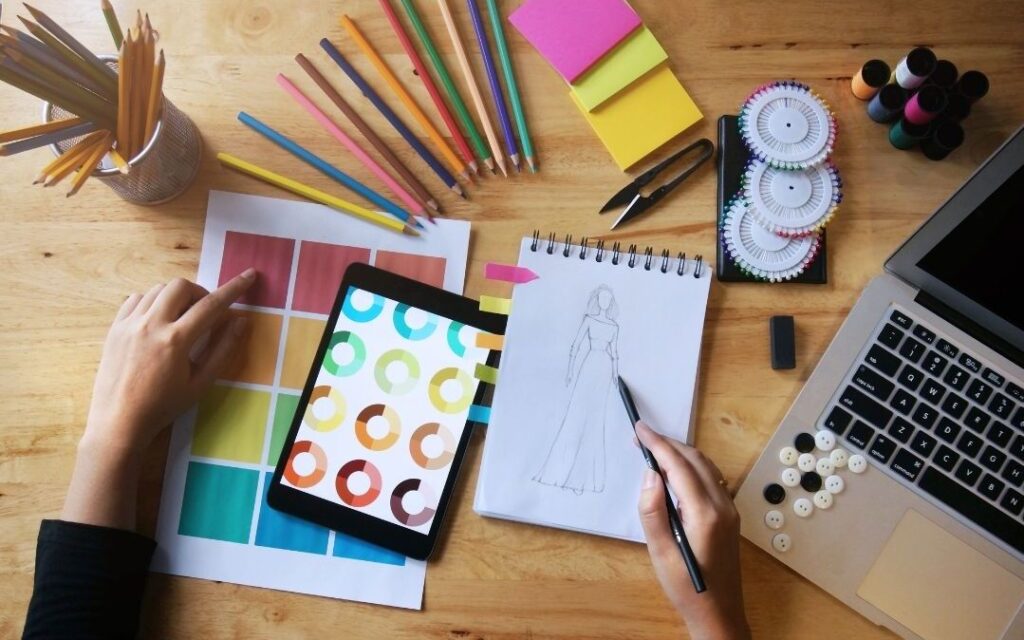 Sketching plays a major role in fashion designing. It helps to preview and visualize designs before sewing the actual garments. And to learn sketching you must have knowledge of all essential fashion sketching tools. 
At House of Design, we start from zero. One of the first milestones for us is to teach students how to sketch fashion figures. Sketching gives a physical artistic version of your design idea. Preparing your starter toolkit is the thing you need to learn on your path to success. You will probably find many suggestions and lists of products to use, but honestly, you can practice sketching on an ordinary printing paper.
Once you start practicing sketching with pencil and plain paper, and you definitely want to be a fashion illustrator then you can start collecting your own fashion sketching toolkit.
Now, we all know that before diving into the world of fashion designing, the first most important thing to keep in mind is to create your own, personal fashion sketching toolkit. All professional fashion designing courses include many stages and sketching is one of the first stages. For learning sketching, you will need to work with a wide range of tools.
Here is a list of some essential items to include in your tool kits for fashion sketching.
Please note that the ideas here are generic, but you can adjust the options to meet your personal needs and preferences.
Essentials For Your Sketching Toolkit:
Drawing Pencils

Paper/Drawing Pad

Colored Pencils

Watercolor Set

Pattern Making Tools

Pattern Grading Tools
A range of pencils from B to H grades help you to make a well-drawn, well presented Sketch/Illustration of the garment design. 9H is the hardest and 9B is the softest among all grades, with F for fine, and HB in the middle range. The lighter B class pencil is more suitable for smoother texture works. Emphasis for details can be achieved using the harder H class pencils.
You can start practicing illustration on ordinary printing paper. However, if you use a paper pad, you can use a marker to sketch without losing the clarity of the sketches. You can prefer cartridge paper to draw for all kinds of mediums.
Color pencils are made in the same way as normal sketch pencils. The color pencils are made with graphite mixed with a clay filler and a binder. Added wax as a lubricant lets these pencils slide lightly on the paper. These colored pencils leave sharp lines, while others are softer and easier to blend.
After sketching, it's time to add color to your design. Using a watercolor set meanwhile is a good way to sketch. After sketching with a pencil, all that is left to do is to use one of the brushes and choose a color. Before choosing a different color, always remember to wash your brush thoroughly.
One of the most vital stages of creating a fashion style is pattern making. For pattern making, you will require some tools. These include pattern-making paper which is used to draft patterns of your design, pattern card blocks to cut the blocks of different parts of the design, pattern notcher to cut out little notches on blocks or other cardboard patterns. 
These tools are used in the process of either increasing or decreasing the sizes of patterns. We must adopt these tools to shape different cloth sizes. It seems to be a major part of fashion sketching in the few best institutes of fashion designing. These tools include rulers, fabric markers, scissors, chalk, design curve ruler, etc.
Learning fashion sketching is not as easy as we think, but this is a profession that allows you to be creative and show your creativity while dressing up the world. Use the information above and find tutorials to help you learn the perfect way to become the great fashion designer you've always dreamed of. Know when you are ready to expand your options in sketching with our best sewing classes and take your fashion design to the next level.
2021 fashion trends include designs, fabrics, and colors
for imaginative, beautiful, and comfortable clothing
like the modern kimono. 
Call us today at 973-908-3575
or visit us at houseofdezign.com
to learn more about making a modern kimono
with us!